SITES NEARBY
Bhopal has a number of historical places around it.

Islamnagar: 11 km from Bhopal on the Berasia Rd,

was built by dost Mohammed Khan in the 18th century. In the palace's formal gardens, a highly decorated pavilion combines elements of the Afghan rulers' Islamic art and the local Hindus' decorative style. Other monuments to see are the hamam of the Chaman Mahal and the double-storeyed Rani Mahal.


Bhojpur: The legendary Raja Bhoj (1010-53) not only built the lakes at Bhopal but also built another one,

estimated at 400 sq km, in Bhojpur, 28 km south-east of the state capital. Here is a huge, but uncompleted, Bhojeshwar Temple, dedicated to Shiva. It has some very unusual design features and sports a lingam 2.3 meters high by 5.3 meters in circumference. The earthen rampart used to raise stone for the construction of the dome still remains. Nearby is another incomplete monolithic temple, this time a Jain Shrine containing a colossal statue of Mahavira over six meters in height. Though a long way from rivaling the 17-metre-high statue of Gomateshvara at Sravanabelagola in Karnataka, this has to be one of the largest Jain statues in India.





Bhimbetka: 45 kilometers south of Bhopal lay the famous Bhimbetka caves known for their prehistoric cave paintings. The oldest paintings are believed to be up to 12,000 years old whereas some of the crude, geometric figures probably date from as recently as the medieval period.


Sanchi: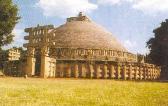 Located 46 km northeast of Bhopal, is world famous for its Buddhist monuments including the great Sanchi Stupa. Sanchi is an unmatched repository of Buddhist art and architecture. It is located on a secluded hill crowned by a group of stupas, chaityas, temples, monasteries and gateways, embellished by the most delicate carvings, that depict various incidents in the Buddha's life as well as important teachings.


OTHER PLACES


Of the less important sites, Neori, only 6 km from Bhopal, has an 11th-century Shiva temple. This temple & nearby Gufa Mandir (Cave Temple) are popular picnic spots. At Ashapuri, 6 km north of Bhopal, there are ruined temples and Jain palaces with statues scattered the ground. Bhadbhada Dam & Kerwa Dam, 12 km are one of the most popular spots for picnic and outing. Hathaikheda, 10 km away from Bhopal on the Raisen Rd, is a peaceful fishing spot.